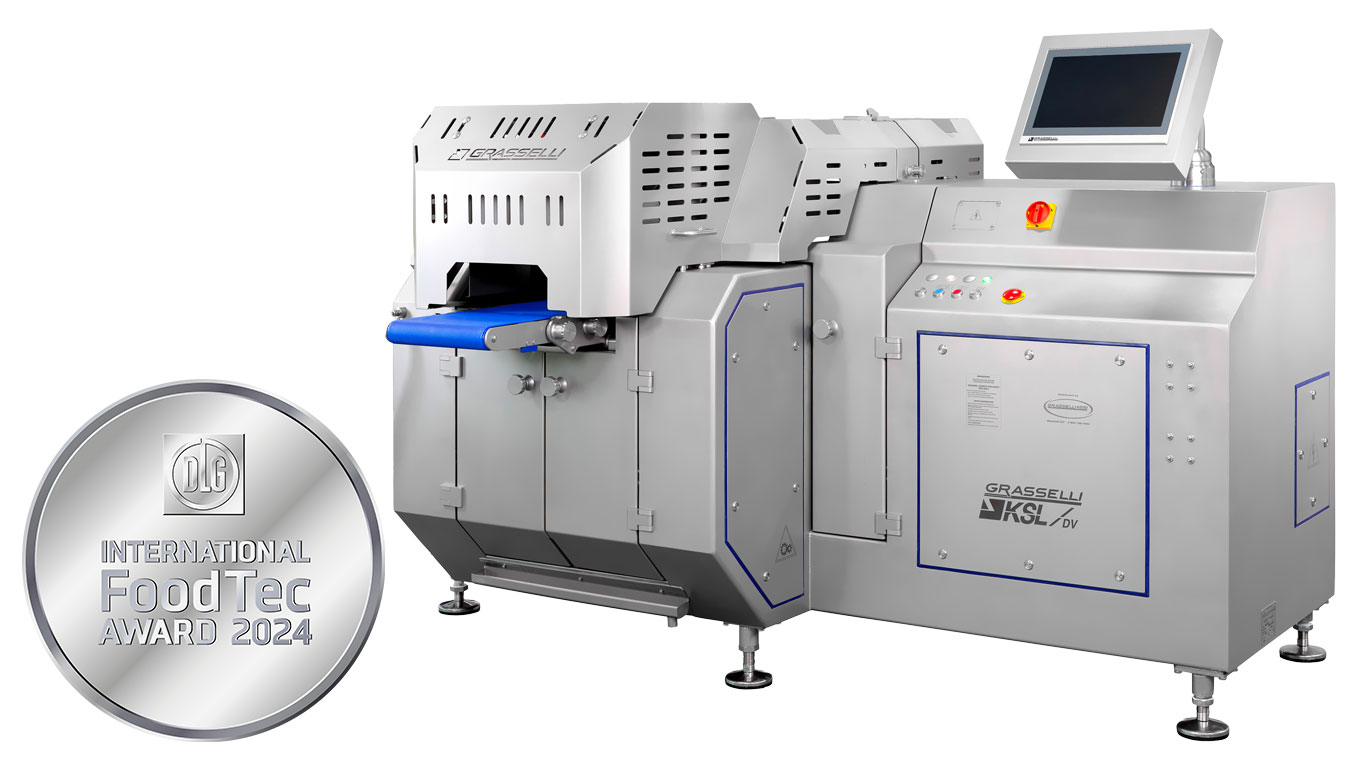 We are pleased to announce that Grasselli won the International FoodTec Award 2024 from DLG obtaining the SILVER MEDAL for our Smart Horizontal Slicer KSL DV.
This prestigious technology award was recognized by the International FoodTec Award, the leading international food technology award, as a prize for our innovations in the world of food technology.
As we know, one of the main goals of food processing is waste reduction, and our slicer KSL DV allows us to reach the desired result. The standard set-up of the present horizontal cutting machine presents two primary problems:
The inability to adjust the cutting parameters during manufacturing leads to substandard cutting quality and hard-to-manage production;
The almost constant presence of a trim slice on the top, due to the difference between the height of the pressed product and the cutting pitch which caused in lower yields and a lot of product residues.
KSL DV, compared to the standard fixed-thickness horizontal cutting machines currently available on the market, allows for lower waste because of the peculiar aspects that present our slicing machine.

KSL DV detects the size and shape of the incoming product, adjusting at the same time the cutting process in order to maximize the yield and quality of the final product.
This result is possible thanks to the 3D scanner which examines the product combined with specially developed software and a patented blade movement system. This allows the machine to automatically decide how many blades to use, and adjust the position of the blades and the pressure parameters in order to minimize some residues of the sliced product achieving the utmost zero-waste result.
KSL DV was introduced to the market a few years ago and we are currently working to make the market fully aware of the solution, also adapting and applying the special software developed for this machine on other our slicers in order to apply our smart solution to other proteins.
This is the result of years of dedicated research made by our qualified personnel. We will be waiting for you online to share this prestigious award!
We will be receiving the certification with honours at the Anuga FoodTec on 19th March 2024 in Cologne.